Neverland Manila is a brand new outdoor EDM festival in Manila that will take place at the SM MOA Concert Grounds on Friday October 3 2014 with DJs Afrojack, Knife Party, Axwell Λ Ingrosso, Ferry Corsten, Bassjackers, Shermanology, Apster, D-Wayne, and StadiumX.
Neverland is the Philippines first real full-length EDM festival with a complete line-up of only international DJs and act in an amazing setup and professional production that this country has never seen before (think Tomorrowland, DanceValley, EDC, Ultra, etc). The festival is not only the longest – a full 12 hours with some of the world's best DJs – it's also the biggest EDM festival Manila has ever seen. This is something you do not want to miss! Check the official trailer below and get your tickets before they are sold out.
Neverland Manila
October 3 2014 (6pm – 6am)
Mall Of Asia Concert Grounds
DJs: Afrojack, Knife Party, Axwell Λ Ingrosso, Ferry Corsten, Bassjackers, Shermanology, Apster, D-Wayne, StadiumX and more
Tickets:
Gold: PHP 5,500
VIP: PHP 8,500
For VIP tables please call: +632 507 0810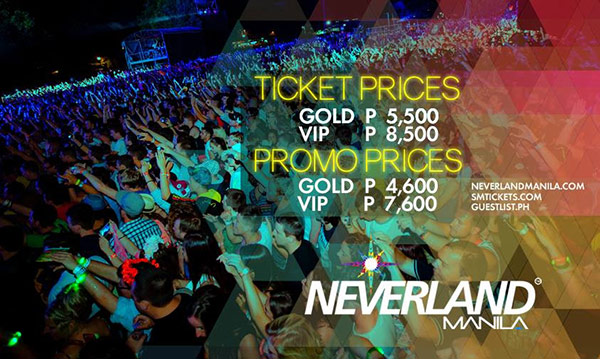 Tickets can be bought on SMTickets.com and NeverlandManila.com
Neverland is not a one-time event. There will be many more editions of Neverland Manila and it will happen sooner than you think. The team behind Neverland Manila, which is lead by Dutch national Matts Caspers, has a lot in store for the Philippines. Below you can find some more info about Matts and Neverland Manila
The Man Behind Neverland Manila
You've heard all about it in social media. They currently have 161,000 Facebook fans and counting, and a powerhouse festival line-up. Being able to bring in all nine international acts for one night got everybody curious on who they are. But what is Neverland Manila anyway?
Neverland Manila started as a rumor in social media early this year, until there were Facebook sponsored ads, a fan page came out, and a full EDM (electronic dance music) festival line up months after which convinced everyone that it is indeed real and happening. "It (actually) started with a dream and now it's a reality," says Matts Caspers, CEO/President of Neverland Manila. "Being festival goers ourselves, after seeing the supposed biggest EDM event early this year, we saw an opportunity to make a difference. And then we decided, 'Let's try to do this ourselves.' "
When you think of Neverland, one automatically associates it with the childhood character Peter Pan. "But other than that it's about happiness and being and feeling young," he adds. "Music is for everybody, and it makes it possible for everyone to be equal. We want everyone to forget about their problems for a while, and let us entertain them. During the event, you'll (just) think of happy thoughts."
A Dutch through and through, Matts Caspers is an entrepreneur who started at the age of 20, and became an investor at 26. After numerous successful investments, he teamed up with his good friend Ruben Wolf, a sales expert in the financial industry and together they created an investment company specializing in media, entertainment, software, and finance. In doing such, they became part of different international music festivals for a couple of years. With EDM being a worldwide trend and everything happening as fast as the DJ's drops and beats, one has to be on top of everything 24/7 to keep up with the latest in music and in the industry. Caspers believes that with the immense success of EDM festivals all around the world, the Philippines is one of the best avenues for these kinds of gatherings, if not the best. "Filipinos are born ready for these kinds of events. EDM is a worldwide trend, and being Asia's number 1 fastest-growing economy, it is but anticipated that Pinoys would take a dip to this fantastic world of music."
"With the immense preparation and planning for all these greatness to happen, of course it has its own set of challenges," says Caspers when asked to share his team's pre-event efforts. "However, I know that when my team and I see everyone going ecstatic, it makes us so proud to create something this huge and beautiful. It makes all the 24/7 working really worth it for me and my team."
Despite his fast-paced professional life, Caspers is a laid-back person who binge-watches various TV series, listens to soul, classic rock, and jazz, and would want to be a veterinarian had he not worked in this industry. "I love traveling and clubbing around the world, but when I'm at home I just love to be outdoors with my two dogs," he adds.
Among all the EDM artists, he names Armin Van Buuren, Afrojack, and Martin Garrix as his favorites. "With Armin, he's just really amazing and he definitely changed the EDM scene. Martin Garrix, on the other hand, has lots of talent at such a young age and I expect to see a lot more from him. Afrojack—that's my number 1 DJ—I'm amazed by his creativity and his ability to create various music for different artists, his evolution and innovation for music, is just impressive."
At the moment, he likes the industry he's in and sees Neverland Manila as a big company in the country for years to come. He mentions, "I'll be staying the Philippines to let people know that Neverland Manila is indeed here to stay. We may be new in the Philippine events industry, but we are here to change the game, as everyone can probably feel."
What should the Filipinos expect on October 3? He shares with a smile, "Two words: Neverland. Manila. Expect it as you feel it. Neverland Manila is all about giving the Pinoys an unforgettable experience, and it's about time that we show everyone how a real outdoor EDM festival should be."
Neverland Manila will be held on October 3, 2014 at the SM Mall of Asia Concert Grounds. Get your tickets at the Neverland Manila website (www.neverlandmanila.com), smtickets.com, and all SM Tickets outlets nationwide.
afrojack, Axwell Λ Ingrosso, edm, edm festival, festival, Knife Party, never land manila, neverland, neverland festival, neverland manila, neverland manila 2014, neverland philippines