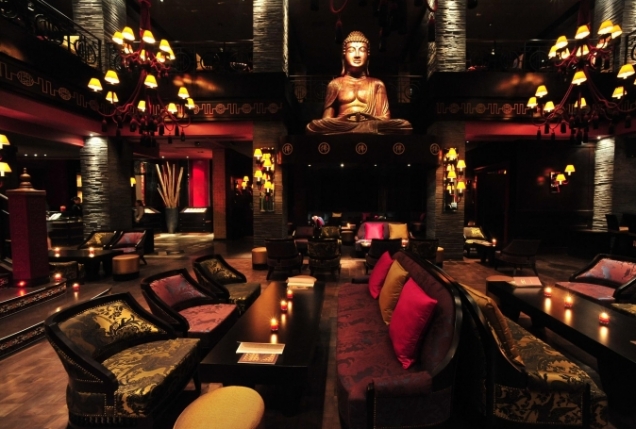 The famous Buddha-bar is now open in the Philippines! Buddha Bar is a global chain of high class restaurant-lounges located in cities such as Paris, Washington, Dubai, Monte Carlo, Keiv and now Manila. Buddha Bar in Manila is the 13th official Buddha Bar in the world.
The brand new luxurious Buddha-Bar has 3 floors (the lounge, the restaurant and a roof deck) and has over 500 seats to accommodate guests for drinks and/or food. The signature black, red and gold interior is truly amazing. The restaurant/lounge has an awesome Asian temple-like design with huge staircases, a giant Buddha, lounge tables, stylish bars, DJ Booth and VIP Rooms.
The restaurant offers a great selection of Asian fusion such as sushi plates, curries, bento boxes and Vietnamese springrolls (Must try!).
Buddha Bar is one of the hippest and trendiest places Manila has ever seen. The establishment is operated and managed by French nationals to ensure sure the quality of Buddha-Bar is met and maintained. Buddha Bar Philippines is located in Makati on Kalayaan Avenue (Picar Place/The Stratford Residences). Buddha Bar is open 7 days a week from 7pm until 2am (3amin weekends). For table reservations call +63 2 8566719 / 8566859
New to Manila? Don't OVERPAY or get SCAM by taxi drivers! Use the Grab App, it's the most popular ride-hailing app in Metro Manila. Use our code: GRABMCFREERIDE or SIGN UP HERE to get a discounted ride!
budah bar, budda bar, buddah bar, buddah bar makati, buddah bar manila, buddah bar philippines, buddha, buddha bar, buddha bar makati, buddha bar restaurant, buddha lounge, buddha restaurant, buddha-bar, buddhabar, budha bar, manila nightlife