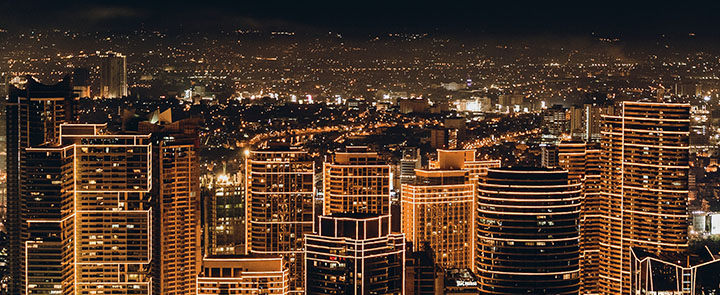 Known as the main business district in the Philippines or Manila's wall street, business giants and commercial tycoons employ the heaviest in Makati. It's very populated during weekdays but a breeze in the weekends. A day in a life of a 'Makati person' is spent largely in traffic given the large number of workforce in the city. While it's the perfect district to build a career for the millennials, it's also the place to eat, sleep, rage, repeat for anyone burned out with the daily business grind in the area. Spots to take note of are Ayala, Poblacion, Circuit, and Greenbelt to bring the night back to life.
For the tourists and hard workers in Makati, Club Royal stands out as a luxury place in the neighborhood of Poblacion. It features classic Victorian wallpapers and old-fashioned interiors which is home to the crazy, wild and elegant. The dimmed red lights create a sexy revival of 'the red room of pain' that goes together when mixed with RnB, Hiphop, EDM and top 40.
Address: 5343 St., General Luna, Makati
Located in the same Poblacion area, Time sets a different scene compared to other clubs. For the trance, electronic, house music person, a party at Time nightclub is a must. The vibe is very underground which you can feel in its entire 3-floor building. It's still underrated but a def good place to chill at the rooftop or get wasted. After all, time you enjoy wasting is not wasted at time.
Address: Central Bus. Dist. Makati City, 7840 Makati Ave, Makati
With the 20-20 sister bar beside, disco balls hanging atop, and warehouse style area, XX XX captures the 80's and 90's kids at heart. Nope, this is not your grandma's disco. Think of it as a millennial's version of the old-school clubs throwing off the highest quality electronic music out there. Look no further for a scene on fleek, but still kept low-key.
Address: 20A-20B La Fuerza Plaza 2241 Chino Roces Ave. (Pasong Tamo) Makati
Switching the scene to hip hop, rap, and trap, Black Market is anyone's place for an ultimate swag throwdown. The club isn't enormous, but enough to get you rummaging around and discover two secret bars. The whole industrial look is a cover up for mostly young Filipinos who take their swerve on the next level for making some 'bad decisions' on a Wednesday night.
Address: 2723 Sabio St, Makati
B-side is a night spot for that 'I'm not ready for Monday' moment. Nothing too flashy, as everyone's laid back high on the beats of live reggae music, local bands, and hip-hop. Different walks of life are the usual suspects here, Europeans, locals, the edgy types, Rastas, and the typical Makati commoners. The art of music is surfaced and is celebrated amongst this crowd.
Address: Malugay st. Brgy. San Antonio, Makati City, Manila
Finally, a club to spice up the nightlife around Greenbelt area. Be Low is established under one of Makati's stylized hotels but is already the gem of Ayala people. It's a modern-day version of what a burlesque-ish club should be like that doesn't try too hard. A wooden dance floor is in the middle to get your cancan out of your system.
Address: Esperanza St, Makati