On February 22 and 23 2014 a big two-day outdoor music festival will be held named "7107 International Music Festival" (7017 stands for the Philippines as it is the amount of islands the Philippine archipelago comprises). Two stages will present a lineup of over 30 popular international and local music artists, bands and DJs. The event will be held at Clark, Pampanga (Spur Road, Global Gateway Logistics City area).
Line-up
There has been a lot of rumors and speculation about the final line-up. We have listed part of the line-up before, but due to some last minute changes and publish embargoes we decided to remove the the  line-up until it is officially announced by 7107. Below you can find the first officially announced artists. This is just Phase 1, a lot more artist will be announced later.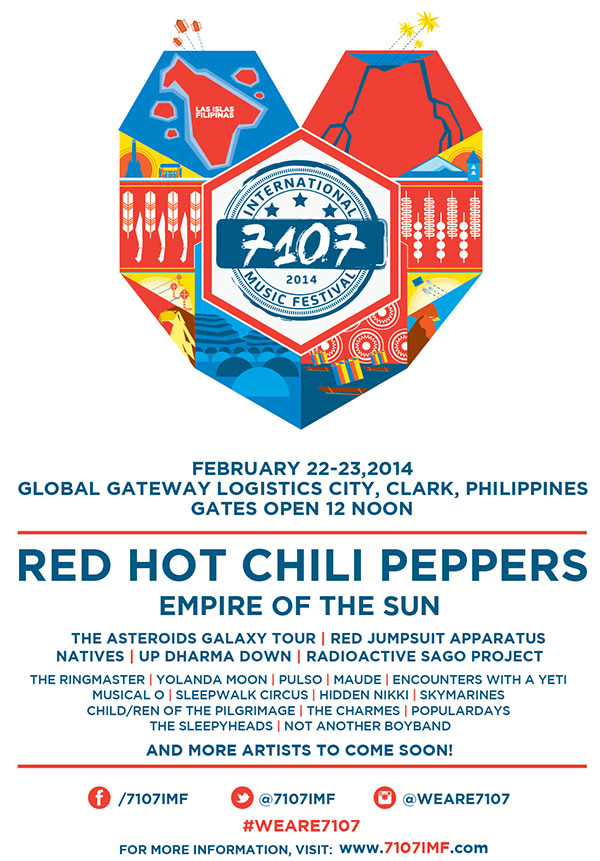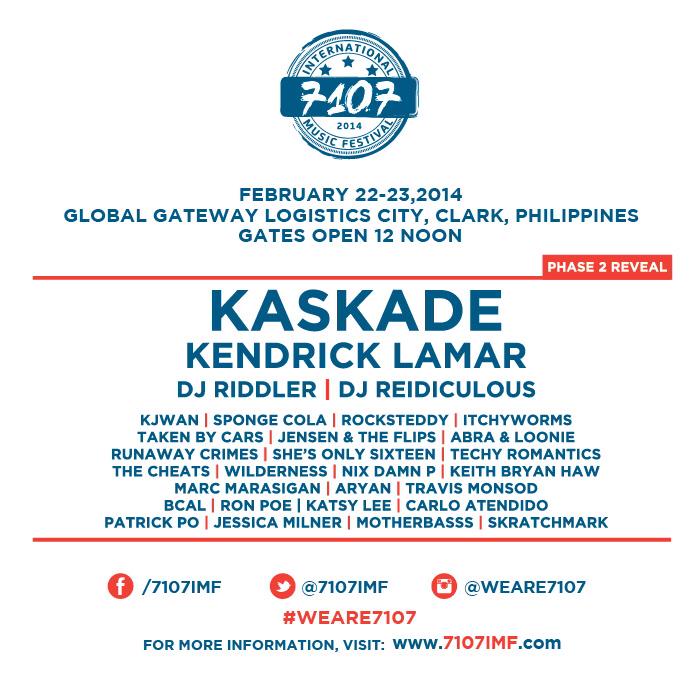 Red Hot Chili Peppers, Empire of the Sun, Up Dharma Down, Radioactive Sago Project, Red Jumpsuit Aparatus, Natives, The Asteroids Galaxy Tour, Pulso, Sleepwalk Circus, Encounters With a Yeti, The Charmes, Child/ren of the Pilgrimage, Hidden Nikki, Maude, Musical O, Populardays, The Ringmaster, Yolanda Moon, Skymarines, No Other Boyband and The Sleepyheads.
Kaskade, Kendrick Lamar, DJ Riddle, DJ Reidiculous, Kjawan, Sponge Cola, Rocksteddy, Itchyworms, Taken by Cars, Jensen & the Flips, Arba & Loonie, Runaway Crimes, She's only Sixteen, Techy Romantics, The Cheats, Wilderness, Nix Damn P, Keith Bryan Haw, Marc Marasigan, Aryan, Travis Monsod, Bcal, Ron Poe, Katsy Lee, Carlo Atendido, Patrick Po, Jessica Milner, Motherbass, Skratchmark.
Ticket/Wristband prices:
Early Bird Tickets (purchased before December 31st):
2 day Pass General Admission: PHP 8500.00
2 day Pas VIP Admission: PHP 20000.00
General Tickets (purchased after December 31st):
2 day Pass General Admission: PHP 10000.00
2 day Pas VIP Admission: PHP 25000.00
Parking pass: PHP 300.00 per day
VIP Table packages will also be available.
Tickets can be purchased on the 7107IMF website:

How to get there:
Getting to Pampanga
From Ninoy Aquino Airport to Pampanga: 1.5 hour drive
From Clark International Airport to Pampanga: 15-minute drive
From Angeles City to Pampanga: 15-minute drive
Shuttle Service
Once you arrive in Pampanga complimentary shuttles will be provided by participating hotels, going to and from the venue.11am until 1 hour after the festival ends (which is around 11.30pm).  Limited VIP shuttle passes and on-site parking passes will also be available for VIP ticket holders.
There will be limited parking available. Purchasing your parking pass ahead of time in order to reserve your space is recommended.
There will be NO overnight parking and NO Camping!
Hotels / Accommodation 
Below you can find a lost of recommended hotels to stay in the area. All hotels offer special rates for attendants of the 7107 Music Festival. Complimentary shuttle service going to and from the venue will  be included with your stay.
– LEWIS GRAND HOTEL
Don Juico Ave., Clarkview, Angeles City, Pampanga
4,550 net/night – 19,400 net/night
– THE PENTHOUSE
3-4 A. Santos Street, Balibago, Angeles City, Pampanga
from 5,400 net/night – 6,720 net/night
– HOLIDAY INN CLARK FIELD
Mimosa Drive, Mimosa Leisure Estate Clarkfield, San Fernando, Pampanga
5,018.17 net/night
– BEST WESTERN THE MINT
4895 Blk. 1, Mon Tang Avenue, Mac Arthur Highway, Balibago, Angeles City, Pampanga
2,880 net/night – 3,360 net/night
Last update: January 15 2014
7107 International Music Festival, 7107 International Music Festival line-up, 7107 International Music Festival Tickets, 7107 Music Festival, 7107 Music Festival boracay, boracay, clark, Clark field, Clarkfield, drake, jay-z, kaskade, manila, philippines, subic