UPDATE FEBRUARY 2016 – 71 GRAMERCY IS CURRENTLY CLOSED FOR RENOVATION, IT MIGHT RE-OPEN IN THE FUTURE!
71 Gramercy is a New York-style bar / lounge / restaurant on the 71st floor of  Manila's highest residential skyscraper, the Gramercy Residences. The highest club in Manila is brought to you by some of the guys behind Opus and Prive (Erik Cua, Tim Yap, Louie Ysmael, GP Reyes, Carlo Miguel) + Euric Lumanog (DJ Euric), Fabinho Ide, Carlo Trillo (Fiamma), Raj Sadhwani (Distillery / Draft / Imperial) and Raymond Gutierrez and is currently – as expected – the hottest new place in town.
Update April 2016: 71 Gramercy is being turned into various smaller establishments such as a lounge (Suzie Wong), a French Restaurant and a Scotch bar. Suzie Wong at 71 is expected to open in August 2016.
The club has an inside lounge and bar area, a restaurant area as well as an outside roof deck terrace with full bar. All areas have amazing views over the city.
Tables can be booked by calling or texting +63 (0)917 847 7535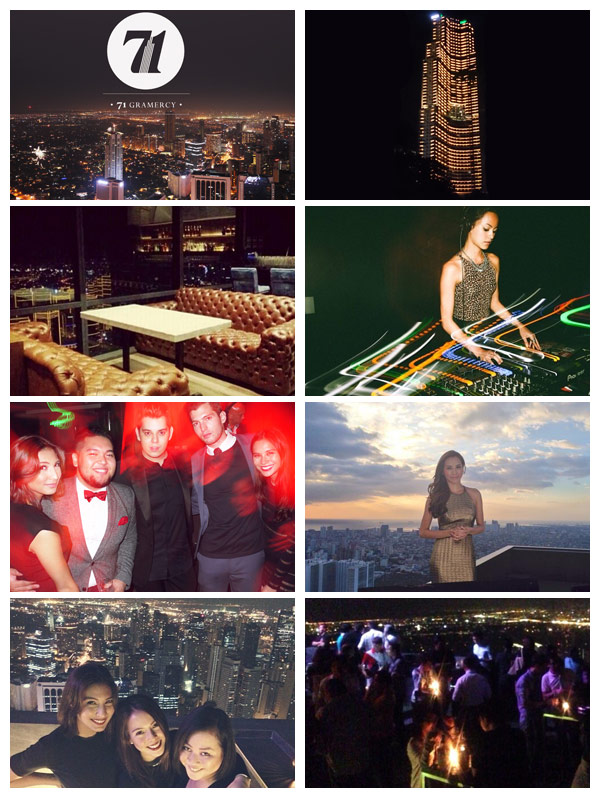 Clubnights
Below you can find an overview of the weekly clubnights that are currently happening at 71 Gramercy:
Mondays – Sparklers
Celebrate life with music that makes you feel nostalgic. 90's Hits til' the present. Starting at 9.30pm
Presented by GP Reyes, hosted by Fran Olivia and I ♥ Manila
Tuesdays – Village / Vices
Stretch your legs and party like it's 2014, just don't hurt anybody! Chooze days at 10pm. Throwback Tracks, Disco Rap and Curated Hip Hop. No style, no entry!
Hosted by Raymond Gutierrez, Neil Arce, Euric Lumanog and Carlo Trillo
Wednesdays – Electric Runway
The official models night at 71. Top models, top celebrities, top shelf liquor, top service all partying at the top of the the tallest building in the country! Hosted by Fabio Ide and Manolet Dario
Thursdays – Quench-Your-Thirst-Day
Thursay Madness. Hosted by Tim Yap
Fridays – Sorry Mom, It's Friday
Hosted by Raymond Gutierrez, Neil Acre, Euric Lumanog and Carl Trillo
Saturdays – Saturday Fun Machine
There's no escaping the fun machine. Lounge and House music collection that is undeniably Superfly, with DJs Karl Ty, Kerwin Yu and BadboyJeff. Hosted by Tim Yap
71 Gramercy is currently open Monday – Saturdays. The restaurant opens at 6pm. It will soon be open on Sundays as well for Sunset Champagne Brunches.
Drinks
71 Gramercy serves hip cocktails, beer on tap and wine, liquor and champagne by the glass and bottle. Below you can find the temporary drink menu from the lounge area which also includes bottle prices. The menu will be updated soon.
Food
71 Gramercy has a full restaurant ran by award-winning chef Carlo Miguel. The restaurant is currently on dry run, the full menu is not available, but knowing the team that runs the restaurant we can expect quality modern innovative gastronomic cuisine.
71 Gramercy at the Gramercy Residences, Kalayaan Avenue – Party in the clouds! For bookings and VIP table reservations call or text +63 917 847 7535
71 gramercy club, 71 gramercy manila, 71gramercy, 71st gramercy, club, club gramercy 71, Electric Runway, Gramercy, gramercy 71, gramercy 71 club, Gramercy 71 manila, Gramercy bar, Gramercy Cafe, Gramercy Club, Gramercy lounge, Gramercy Residences, Gramercy sky lounge, Gramercy71, nightclub, rooftop, sky lounge, suzie wong, suzie wong at 71, suzy wong, The Gramercy Residences