IMPERIAL IS NOW CLOSED!
Imperial Ice Bar is Manila's new HOT spot (pun intended). The bar consists of 2 parts, a stylish bar/lounge area, complete with DJ booth and nightclub interior and the actual ice bar.

In the ice bar, located in the back, you can enjoy Russian Standard's Imperial Vodka at -5 degrees Celsius. To get into the actual ice bar you have to pay a one time fee of Php 550, which allows you 15 minutes inside and includes 2 Imperial Vodka shots. Before you step into the ice bar you enter a small room where you will be provided with a warm winter jacket, gloves and hat. You then enter the ice bar where literally everything is sculpted out of ice, including the bar, the tables, the seats, the decor and even the shot glasses.
At the bar you can order your Imperial Vodka shots. You can chose from 3 infused flavors: Lychee, Mango and Pineapple. For those that want to drink more shots, you can purchase additional shots for Php 275.
The vodka shots really help you to stay warm in the -5 degrees Celsius bar, but for many it will be hard to last the full 20 minutes inside the freezing temperatures. When you had enough you return your jacket and step back into the lounge area where you can enjoy premium drinks, cocktails and Russian inspired bar snacks.
The lounge area has an awesome interior and includes a DJ booth, standing tables, couches and a huge bar. Here you can continue the rest of your night while enjoying some great cocktails (or other drinks, including full bottle service). The DJs make sure to keep the party going all night.
Imperial Ice Bar also has a VIP room for groups that like a more private experience. The VIP room has big screen TV on which you can watch a live feed from the camera in the ice bar.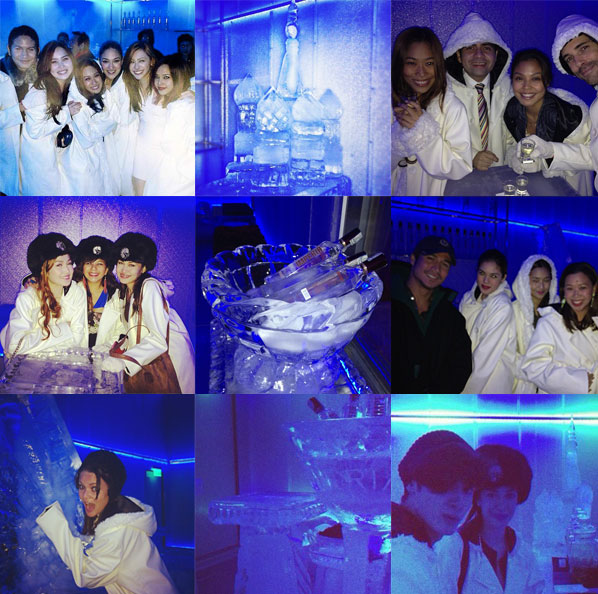 Imperial Ice Bar is definitely something you just have to check out. A great experience, good music, nice food and an awesome interior.  It's a great addition to Manila's nightlife.
Imperial Ice Bar Manila is located along the Fort Strip in Bonifacio Global City (next to Draft and Prive). Open daily except Sundays.
ice bar manila, ice bar philippines, imperial bar, Imperial ice bar, imperial ice bar bgc, imperial ice bar fort bonifacio, Imperial Ice Bar manila, imperial the fort, manila ice bar