Rating:





(53 votes, average: 3.00 out of 5)


Loading...
Update. this club is now named HIDEOUT.
Hideout is a clubbing concept by the people behind BigFish, the party organization that has brought some of the world's best EDM DJs to Manila. The club focuses mainly on quality electronic dance music (house, trance, club etc).  They also play host to various international Djs every week–Fridays and Saturdays!
Hideout Manila is located on the Fort Strip in Bonifacio Global City, Taguig (next to Draft and Imperial). Haze features a state of the art sound system as well as great lighting and visual shows.
Haze Weekly Club Nights
Wednesdays – Kandilicious Wednesdays presents House of Gold
This is the club's official ladies' night (ladies don't need to pay door charge, plus they get one drink on the house). The club is outfitted with gold decor to complete the night's House of Gold theme.
DRINK PROMO: Buy 1 BOTTLE, get the next one 50% off.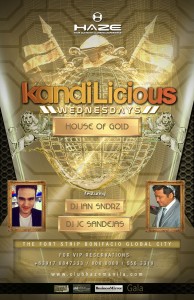 Thursdays – All Out Thursdays: "Turn the NEON ON!"
On this night, partygoers are encouraged to wear neon clothing, as the club is outfitted with neon decor, and all black lights are turned on. The goal of the night is to glow on the dance floor & go all out!
DRINK PROMO: Buy 1 BOTTLE, get the next one 50% off.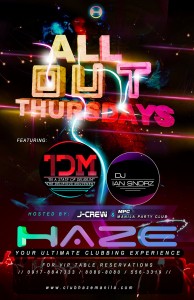 Fridays – Anthem Fridays: Purity, Stupidity, Ultimate Fun!
This is the perfect night to lose yourself! Every Friday is a different theme; expect a fun 'show' of sorts, where the night's DJs and Host MC dress-up and entertain the crowd—all while spinning the hottest dance anthems of the last decade!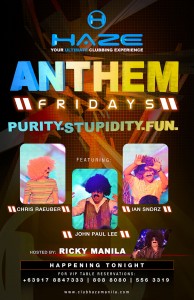 Saturday – Sensation Saturdays
Saturdays are reserved for pure and quality EDM, spun by world-class DJs, in the style that has become the reason Hideout Club is considered the home of EDM in Manila!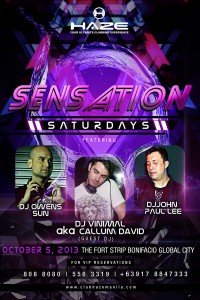 For more info, reservations, guest list and VIP table bookings call 808-8080 / 556-3319 /09179318444 / 0927968433. Below you can find the Hideout table layout.
Anthem Fridays, big fish, big fish club, big fish club card, bigfish, bigfish clubcard, bigfish manila, bigfish platinum, club haze, club haze guest list, club haze guestlist, club haze manila, club haze table booking, club haze vip, hase club, haze club, haze club manila, haze nightclub manila, hideout, hideout club, hideout manila, Kandilicious Wednesday, Ministry of Sound Saturdays, sensation saturdays, vip