Rating:





(48 votes, average: 3.31 out of 5)


Loading...
UPDATE: This club is now closed and renamed to Paradis
Palladium is a popular night club in Makati in Manila. It is located below the NewWorld Hotel just across from GreenBelt. Makati is Manila's main central business district and is the place in Manila where most tourists and expats stay. Palladium is very popular among expats, but also among locals that live in the Makati area. If you're new in town Palladium is a great place to get to know new people.
Palladium is usually busy in weekends, but it also has club-nights / parties on Wednesdays and Thursdays.
Club nights in Palladium
Wednesdays: Wasted Wednesdays
Thursdays: Luxe Thursdays
Fridays: Fashion Fridays
Saturdays: Superlicious Saturdays
For Palladium table reservations you can text or call 0917.581.3572 / 0917.581.3584 (landline number: (02) 576 8479). Below you can find the Palladium table layout and VIP table prices.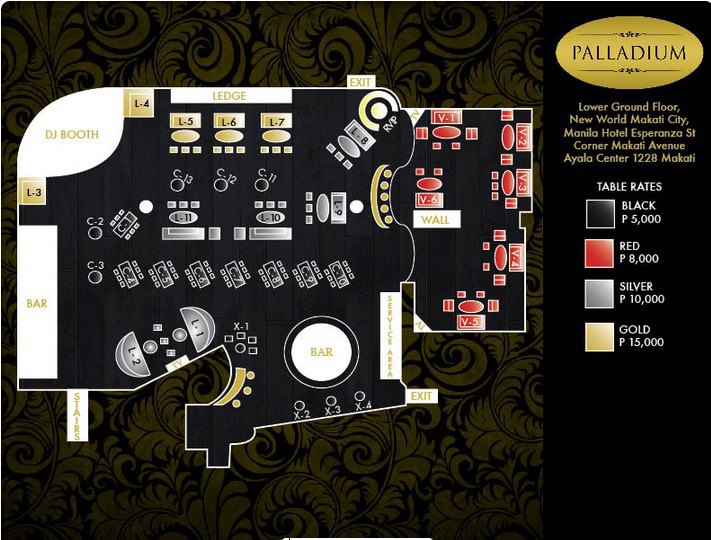 APEX After Party Club
Located right above the club is an after party club called  APEX (by Clubbing TV) where you can party from 4am – 9am on Wednesdays, Fridays and Saturdays. Apex stands for After Party EXperience.  No guest-list, no doorcharge, but dress in party clothes!
Palladium Table Bookings
For Table Reservations / Inquiries, please send the details at 0917-581-3584
For Event Reservations / Inquiries, please send the details at 0917-581-3572
Palladium Operating Hours:
Every Wednesdays – Saturdays / 10:00PM – 6:00AM
Entrance Fee: PhP500.00
For Guest list info check out palladium.com.ph
Palladium is located at the New World Hotel Makati (Esperanza St. corner Makati Avenue, Makati City) right across Greenbelt 3.
apex after party club, apex club manila, apex ultimate club, Clubbing TV Ultra Lounge, Clubbing TV Ultra Lounge Manika, guest list, guestlist, paladium, palladium, palladium gest list, palladium guest list, palladium makati, palladium manila, palladium newworld, palladium table, palladium vip, ultimate apex club, Ultra Lounge Manila, vogue lounge, vogue manila