On  Tuesday October 25  the official Black Eyed Peas Manila concert after party will be held at Republiq club. The party starts at 10pm.
Aferparty tickets can be bought at Cafe Republiq. For ₱1,500 you can buy a ticket that includes a Bronze ticket for the actual concert. If you already have a concert ticket you just pay ₱1,000 for the after-party ticket.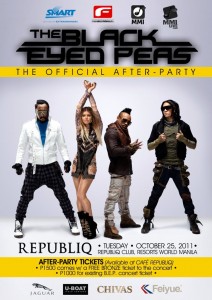 Call 09175508888 for ticket inquiries.
after party, afterparty, black eyed peas, concert, republiq