The creators Insomnia, one of the most popular clubs in the Malate/Manila area, are opening a new super club in Malate called Exklusiv Nightclub. With over 1800 Sq.m Exklusiv will be one of the largest club in the Philippines.
Exklusiv Nighclub will open at the end of 2013
Exklusiv Club is located at Adriatico Street, Malate, Manila
Contact: +63 2 400 9776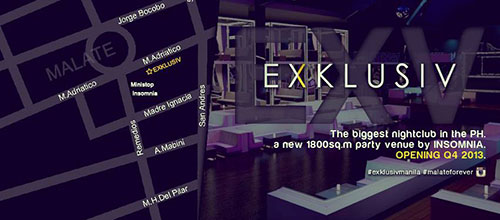 The same group will also bring you Envy Club next year.
Exklusiv, Exklusiv Club, Exklusiv Malate, Exklusiv Manila, Exklusiv Nightclub